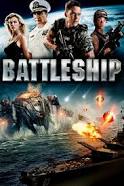 "I got eight boilers hot. Ready to rock and roll."
In 2005 scientists find a planet possible of supporting life. They call it Planet G, which stands for Goldilocks. NASA sends a signal to it but get no reply.
Alex (Taylor Kitsch) and Stone (Alexander Skarsgard) Hopper are brothers. Stone is a navel officer in command of the USS Sampson. Alex does nothing but get in trouble. After his last go round Stone forces Alex to join the navy. A few years later, Alex is a lieutenant in the Combat Information Center on the USS John Paul Jones, an older sister-ship to his brother's command, the USS Sampson.
Alex is also in love with Samantha Shane (Brooklyn Decker) and wants to marry her. Her father is Admiral Shane (Liam Neeson) and he doesn't like Alex. Unfortunately Alex gets into a fight and is to be kicked out of the Navy after the RIMPAC Navel war games. While the war games are going on Samantha is on a hike with Navy veteran Mick Canales (Gregory Gadson) a double amputee. Samantha is trying to get him use to his prosthetic legs. This is when the aliens attack. And all hell breaks loose. The war games are now real war.
"Battleship" is a big pile of cool. What do you expect from a movie that's based on a board game? It's a testosterone filled epic adventure. The music score is intense and the sound effects are loud. The special effects are stunning. Whether you love it or hate it is up to you. Just don't take it seriously. It is aliens from outer space being attacked by a museum piece battleship. The alien space ships are cool. The Navy ships are cool. The action is all over the place. It's mindless fun. It's a blast.
Rihanna plays petty officer Cora Raikes and she steals every scene she's in. My favorite part has got to be when the old salts and the young guys get together and fire up the USS Missouri to AC/DC's "Thunderstruck". It's funny as hell. Gregory Gadson who plays Mick Canales is, in real life, a retired colonel in the United States Army. He is also a bilateral above-the-knee amputee. He served in the U.S. Army for more than 20 years and served for Operations Desert Shield and Desert Storm, Operation Joint Forge, Operation Enduring Freedom, and Operation Iraqi Freedom.