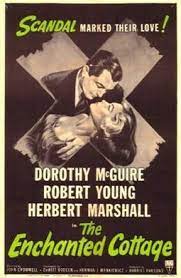 Mrs. Abigail Minnett (Mildred Natwick) owns a cottage near the ocean.  Throughout the years the cottage had been rented to newlyweds.  Mrs. Minnett ended the tradition and lived there alone for decades.  Now she has decided to rent the cottage again.  To get it in shape she hires Laura Pennington (Dorothy McGuire) as a maid.  Laura is an introverted and kindhearted young woman, but very homely.  Laura loves the cottage and feels at home there.
Oliver Bradford (Robert Young) wants to rent the cottage for him and his fiancé, Beatrice Alexander (Hillary Brooke) to spend their honeymoon.  Just before their wedding, Oliver receives orders from the Air Force to report immediately.  The wedding is postponed.  During WW II Oliver ends up in a plane crash that leaves his face scarred and his right arm partially paralyzed.  Oliver has trouble handling his disfigurement, becomes bitter, and decides to rent the cottage and hide away from the world.
The only people who he allows in his life are Mrs. Minnett, Laura, and the next-door neighbor, John Hillgrove (Herbert Marshall).  Hillgrove is a concert pianist and is blind from an injury during WW I.  Oliver is comfortable with John not just because he is blind and can't see Oliver's scars but because he understands what Oliver is going through emotionally.
The longer Oliver stays in the cottage the closer him and Laura become.  Both being lonely people, they develop feelings for each other and decide to get married.  It is while they are on their honeymoon in the cottage when they begin to change.         
"The Enchanted Cottage" was released in 1945 and was directed by John Cromwell.  It is an American fantasy love story.  The film was based on the 1923 play by Arthur Wing Pinero.  A silent film was made from it in 1924.  The play was again made into a film in 2016.
This is probably one of the most charming and romantic movies of the forties.  The theme has been used in many films and shows but never as effective as it is here.  Although it had its nay-sayers when it first came out, everything about the movie is excellent.  The story, the acting, the cinematography, the direction and the music score are all intertwined to make an emotional and romantic story that's never dated.  The flaws that Oliver and Laura have in the film are more of an allegory for not fitting in than just as a physical affliction.  What they find in each other is more than just physical beauty. 
If you like romantic love stories, this is a must.