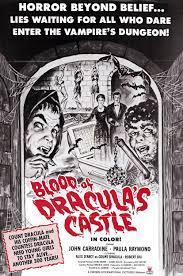 Glen Cannon (Gene Otis Shane) learns that his uncle has died and left him a castle called Falcon Rock, in Arizona.  The current occupants of the castle are Count Townsend (Alexander D'Arcy) and his wife, Countess Townsend (Paula Raymond).  The Count is actually Count Dracula.  He and his vampire wife are now retired and have been renting the castle for 60 years. 
Living with them are their butler, George (John Carradine), and their retarded groundskeeper, Mango (Ray Young).  In the basement they keep a few young girls chained to the wall.  The Townsends keep them alive so they can drink their blood.  George is a worshiper of the god Luna, the god of the moon.  Occasionally one of the chained girls is used as a sacrifice to Luna and is burned at the stake. 
The Townsends are expecting their friend Johnny to pay them a visit.  Johnny is a serial killer who has been in an insane asylum.  Johnny bribes a guard at the asylum.  He then kills him and, on his way to the castle, kills everyone he comes across. 
Now that there is a new owner, they are hoping to be able to either continue to rent the castle or buy it.  Glen and his fiancé, Liz Arden (Jennifer Bishop), decide they want to live in the castle so they take a trip out to see it and inform the Townsends that they must leave.  Glen and Liz stay the night, planning on returning to the city the next day.  Before they can leave, they stumble on the girls chained in the cellar and the Townsends sleeping in their coffins.  They get caught by George, Mango and Johnny.  Things aren't looking good for Glen and Liz. 
"Blood of Dracula's Castle" was released in 1969 and was directed by Al Adamson.  It is an American low budget horror film. 
The film has a running time of 84 minutes.  There are actually two versions of it.  An alternate version called "Dracula's Castle" had additional scenes, directed by Don Hulette, which incorporated a werewolf.  The werewolf was the serial killer Johnny Davenport's alternate ego.  The added scenes brought the film to 91 minutes.  The original film was the theatrical version, the werewolf scenes were added to the television version.
Even with some veteran stars, the acting is surprisingly bad and quite plain.  Even when there is action it seems lethargic and unimpressive.  There is some camp, but not enough to make the film fun or interesting.  The movie is basically on par with many of Al Adamson's other films.
The exterior castle shots are of the Shea's Castle, now called Sky Castle or Castle Ranch in Lancaster, California.  The castle was built in 1924 and is now a private residence. 
Jayne Mansfield was originally cast to play Countess Townsend.  Unfortunately, she died in a car accident before shooting began.  The song "The Next Train Out" was sung by Gil Bernal.
Theatrical version
Werewolf edition