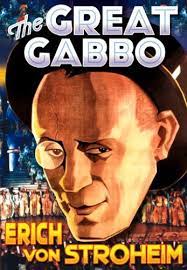 The Great Gabbo (Erich von Stroheim) is a ventriloquist. His dummy's name is "Otto". Assisting him is his girlfriend Mary (Betty Compson). Gabbo is a narcissistic bully. He continually berates Mary and criticizes everything she does. The only time he is ever nice to her is when he uses Otto to speak for him. Gabbo is busy working his way to the top of the entertainment field. Eventually he drives Mary away with his constant verbal abuse. Once Gabbo realizes that Mary has actually left him he regrets how he treated her but only through Otto. As Gabbo he still berates her even though she is gone.
Two years later Gabbo has attained his ultimate goal. He is a famous ventriloquist appearing on Broadway. Every night he dines in a fancy restaurant with Otto. Otto entertains the diners as Gabbo eats, drinks and smokes. His performance is always flawless and the diners love it. Although outwardly he appears to have everything he wants he is alone. His only companion is Otto. Those that work in the entertainment business and see him often remark about how strange his behavior is. They hear him talk to Otto like he is a real person. People think he's crazy. They are not totally wrong.
One night Gabbo sees Mary in the restaurant. She is having dinner with her singing partner Frank (Donald Douglas). After Frank leaves, Gabbo invites Mary to his table. Mary and Frank are performing in a show where Gabbo is headlining. Gabbo uses Otto to try to win Mary back. Believing that Mary is receptive Gabbo starts making plans for the two of them. But Mary has news for Gabbo that will push his fragile mental state to the edge.
"The Great Gabbo" was released in 1929 and was directed by James Cruze and an un-credited Erich von Stroheim. It is a pre-code musical, romance, melodrama. It is also an early sound film and was based on the story "The Rival Dummy" by Ben Hecht. At one time the film had some sequences that were in Multicolor. The restored film, however, is only in black and white.
This is a really strange movie. The result of the drama and musical numbers makes the film a little bi-polar. One minute you're seeing a flamboyant stage number and the next you're seeing a wild man screaming hysterically and cracking bad jokes through a dummy. There are over half a dozen songs in the film and a whole lot of precision choreography. Even Otto sings a couple songs. There does seem to be one song that was either cut or just ended up lost from the existing prints, "The Ga Ga Bird". A snippet of it can be seen in Gabbo's hallucination sequence. It looks like Otto sings it and there are dancing women dressed as birds behind him. The music numbers and the dance sequences are quite extravagant some are just plain outlandish.
There's something creepy about dolls to begin with but ventriloquist dummies are especially hair-raising. I think it's the combination of the eyes moving and an odd voice coming out of it, although Otto is not the creepiest dummy I've seen. Gabbo was stranger than Otto but even then Gabbo was mostly just a short-tempered ego maniac. Otto was a Frank Marshall hand carved basswood Dummy. Marshall also made Edgar Bergen's dummies Charlie McCarthy and Mortimer Snerd. The voice of Otto was done by George Grandee.
Basically, other than von Stroheim's and Betty Compson's performances, I found the movie rather dull. Unless you're into over-the-top song and dance numbers the only draw here is von Stroheim's temper tantrums.