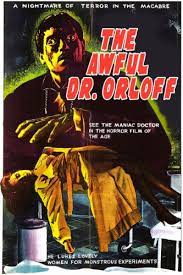 There have been several women of questionable values who have gone missing. Inspector Tanner (Conrado San Martin) has just returned from a two week vacation. While on vacation he met and fell in love with a ballerina, Wanda Bronsky (Diana Lorys). Upon his return he is assigned to the case.
Dr. Orloff (Howard Vernon) is a mad surgeon and a former prison doctor. While as the prison's doctor he was responsible for securing the escape of his lover Arne (Perla Cristal) and his henchman Morpho Lodner (Ricardo Valle). Orloff has since taken up residence in Hartog Castle. When his daughter Melissa (Diana Lorys) was disfigured in a fire Orloff made it his mission to restore her beauty. To that end he has been kidnapping young women to do face grafts trying to restore his daughter's face.
One of the women he kidnaps is a cabaret singer named Dany (Maria Silva). While transporting her to the castle her necklace falls off into the river. Jean Rousseau "Jeannot" (Venancio Muro) finds the necklace while fishing. He tries to hock it and that gets the attention of Inspector Tanner. Jeannot later tells Tanner that there are some strange things going on at the castle near the river. The Hartog Castle. Between that and some eye witnesses helping to make composite drawings of both Orloff and Morpho, Tanner is slowly putting the pieces together.
In the meantime, Tanner's fiancé Wanda sees Orloff and recognizes him from the composite. She decides to do some snooping on her own but ends up firmly in Orloff's clutches.
"The Awful Dr. Orloff" AKA "L'horrible Docteur Orlof" was released in 1962 and was directed by Jesus "Jess" Franco. It is a Spanish horror movie and is part of the subgenre euro-horror or euro-trash. Many consider it the first horror film produced in Spain.
The film is done in the style of a British gothic horror film. There are several versions of it. The French version has some of the sex and eroticism that Franco became noted for. The film is a variation of George Franju's classic "Les Yeux sans Visage" or "Eyes Without a Face" 1960. Several versions exist, differing primarily in the amount of sex and violence depicted. Spain was rather strict about sex in films But the French were not. I would imagine that if you want the full effect of Franco's work you'll have to find the French version. The one I have is about ten or eleven minutes short.
As far as horror movies are concerned it's pretty good. There isn't a lot of gore, at least in the version I saw, but there are some noir touches that add to the film.
There were several sequels and films with the Orloff character, "Dr. Orloff's Monster" 1964, "Orloff Against the Invisible Man" 1970 and "Revenge in the House of Usher" 1983 for example. Some were also directed by Franco. Some were released under various different titles.
Franco has a cameo in the film as a piano player.