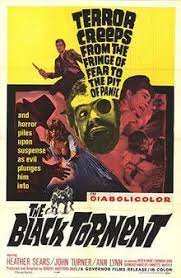 Sir Richard Fordyke (John Turner) is the squire of Fordyke castle. He has just remarried and is retuning with his new bride, Elizabeth (Heather Sears). Richard has been away in London for several months. At the estate Elizabeth is introduced to the staff. Elizabeth then meets her new father-in-law, Sir Giles Fordyke (Joseph Tomelty). Sir Giles suffered from a stroke a few years ago and is now mostly paralyzed and unable to speak. He uses sign language to communicate. The only one in the household that can understand him is Diane (Ann Lynn). Diane is the sister of Richard's first wife Anne. Anne committed suicide four years ago. Also on hand is Seymour (Peter Arne). Seymour is the estate's accountant. He took over handling the estate when Sir Giles became ill.
Richard's welcome home from his tenants is subdued and at times even hostile. While Richard has been away there have been some strange and even horrible things going on in the village. One of the villagers, Lucy Judd (Edina Ronay) was raped and murdered. Before she died she screamed Richard's name. Richard maintains that he was in London at the time, but the villagers are not easily persuaded. There is even some talk of witchcraft.
As Elizabeth tries to settle in things only get worse. The suicide note that Anne wrote is surreptitiously delivered to her. Villagers swear they have seen Richard race through the village on horseback with the spirit of Anne racing behind him on another horse yelling murderer. The window that Anne jumped out of when she killed herself mysteriously opens every night. Even Richard is beginning to see the spirit of Anne in the garden. Then one of the house servants, Mary (Annette Whiteley) goes missing. Her fiancé, Brian (Roger Croucher), accuses Richard of having something to do with it.
One after another things keep happening that makes Richard look as if he is demonic. Richard himself is beginning to wonder if there is something wrong with his sanity. One day Richard is seen riding off in his carriage by Elizabeth and Diane. At the same time Seymour was talking to him in the library. When they go to enter the library the door is locked. Richard is heard screaming from inside the room. Richard comes in from being summoned back from the road. When the door is forced Sir Giles is hanging from the chandelier dead. No one else is in the room.
"The Black Torment" was released in 1964 and was directed by Robert Hartford-Davis. It is a lesser known British gothic horror film.
This was an interesting little film. Not great but enjoyable. The plot is a little on the standard side and it wasn't difficult to figure out the ending but the gothic elements decorated it up. Sir Richard was dumb as a box of rocks and his hubris kept him from figuring out what was going on. Elizabeth was far more intelligent and analytical than he was. And more patient. He mostly blustered.
It's a low budget period piece but the sets are quite sumptuous and rich looking. I did have some trouble being able to see during some of the night scenes. There is a fair amount of action in the film. In the opening scene a young woman is chased through the forest by the killer and at the end there is a sword fight. In the middle is some decent spooky stuff.
It's a gothic style mystery with paranormal undertones and is entertaining enough when you run out of Hammer films and need to see something you've never watched before.