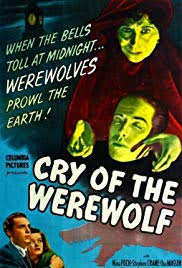 "Your future is written, you're path is plain. You will follow it."
In New Orleans, Dr. Charles Morris (Fritz Leiber) runs a supernatural museum in an old house that once belonged to the LaTour family. Morris is also a student of paranormal phenomena and is researching the LaTours. He is writing a book on Marie LaTour. Legend says that Marie was a werewolf.
The story says that years ago Marie killed her husband when he found out that she was a werewolf. She then disappeared and was never heard from again. Morris is investigating the old story to try to find out what happened to Marie. He believes that he is close to finding his answer. He sent for his son Bob (Stephen Crane) from Europe to tell him about his discoveries.
Jan Spavero (Ivan Triesault) is the museum's janitor. He is a gypsy who is trying to guard the secret of Marie LaTour. He tells the leader of his tribe about Morris's discoveries. The leader of the gypsy tribe is Princess Celeste LaTour (Nina Foch), Marie's daughter. Marie does not want any discoveries concerning her family to get out. She too is a werewolf.
To keep the legend a legend Celeste kills Dr. Morris. When Morris's assistant Ilsa Chauvet (Osa Massen) and his son Bob return to the house all they find is a museum employee Peter (John Abbott). He has been driven mad by whatever he saw. As the legend unravels and more is known about the LaTour family Celeste must continue to kill or risk having the legend proven to be reality.
"Cry of the Werewolf" AKA "Daughter of the Werewolf" was released in 1944 and was directed by Henry Levin. The film is a public domain movie and one of Universal's "B" films. This is the second movie to feature a female werewolf. The first was a silent short made in 1913 called "The Werewolf". It is now a lost film.
Much ado is made that both Marie and Celeste do not actually turn into werewolves but just wolves. Well, it's still a good magical trick. Therianthropy or shapeshifting is still cool.
There are a few minor stars in it so the acting is decent. Osa Massen from "Rocketship XM" and Barton MacLane, a well known character actor, from such movies as "High Sierra" and "The Maltese Falcon" are probably the best known.
It's not a bad little film. There isn't a lot going on but at only a little over an hour it was enjoyable. There is some collectible value in that it is one the rare side and it being one of the first female werewolf movies. It's not the best horror movie and the plot is a little thin, but it is a decent representation of a "B" horror movie.