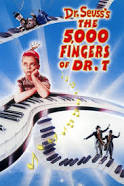 Bartholomew Collins (Tommy Rettig) is your average boy. He lives with his widowed mother Heloise (Mary Healy) and his dog Sport. Bart has one problem in his life. Piano lessons. Specifically piano lessons that he has to take from his piano teacher Dr. Terwilliker (Hans Conried). Terwilliker is an overbearing autocrat. Even Bart's mother is under Terwilliker's domination. When Bart complains to the local plumber, August Zabladowski (Peter Lind Hayes), he gets no help. Stuck at the piano playing, Bart slips into a dream state where his complaints manifest as strange characters and surreal vignettes.
In his dream Bart is stuck in the expressionistic style "Terwilliker Institute". Dr. Terwilliker has built a huge Serpentine piano that requires 500 boys to play it, hence the 5,000 fingers. For the opening day of his institute he plans on having a concert with all 500 boys playing at the same time. His mother has been hypnotized by the tyrant to do his bidding. Under his influence he plans on marrying Bart's mother and he keeps her locked up to make sure that she stays under his control.
The institute itself is more like a crayola colored prison complete with singing guards, electric fences, searchlights torture chambers and four floors of dungeons.
August Zabladowski has been hired to install sinks in the institute. Bart spends most of his time trying to convince the slow witted plumber that Terwilliker is evil, that his mother is imprisoned and that Zabladowski himself is in danger of being disintegrated. The only way Bart can stop Terwilliker's evil plans is to create a music stop potion that will take the piano music out of the air. With Zabladowski's help the potion is created but Zabladowski warns Bart that the ingredients are dangerous, perhaps even atomic.
"The 5000 Fingers of Dr. T" was released in 1953 and was directed by Roy Rowland. It is a children's fantasy musical. The movie is the brain child of Theodor S. Geisel, better known as Dr. Seuss. He wrote both the script and the lyrics to the songs. The film is light on plot but heavy on imagination.
The movie was basically a flop. Reportedly the first version of the film was quite dark and sinister. Revisions, re-shoots and cuts were done. It still didn't do well. Since then, however, the film has gained a cult following, mostly Baby Boomers. And I'm not sure but I suspect a few mind altering drugs, garnered it some fans.
The film is quite creative. I'm not sure if the movie was really produced for children since some of the scenes, even redone, are a little eerie and almost creepy. Of course when you consider some of the gory stuff in Grimm's Fairy Tales I suppose a song about a four story dungeon, torture chamber and mind control is not too out of place. I suspect most of the ideas are nightmares that Geisel himself had at one time or another.
Some of the musical numbers are a little long for my tastes but I did like the whole Dr. Seuss style depicted in the sets. Even Tommy Rettig looks a little like he came off the pages of a Seuss tale.
According to Geisel, one of the boys hired for the movie threw up on the piano while filming. This caused a chain reaction and they were left with 150 vomiting boys. Geisel said that the film's reviews were similar. According to producer Stanley Kramer, the film's budget would only allow him to hire 150 boys for the piano sequence, instead of the 500 boys he actually wanted to use. At one point, when he threatened them with dismissal after they misbehaved, many of the boys stood up and cheered.
The blood oath that Bart recites with Mr. Zabladowski is the Scout Law from the Boy Scouts of America.
Dr. T.'s piano was over 100 yards long and had 480,000 keys.
When Bart and Mr. Zablabowski are taken to the dungeon in the elevator, there is no reference to the third floor dungeon in the Elevator Operator's song. The third stanza of the Elevator Operator's song was cut due to its graphic and violent torture references about household appliances. The deleted stanza went as follows: "Third floor dungeon, household appliances/Spiked beds, electric chairs/Gas chambers, roasting pots/And scalping devices."
Movie
Dungeon song