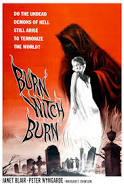 Norman, don't open the door!
Professor Norman Taylor works at the prestigious Hempnell Medical College. He is much respected in his field. Unfortunately some of the wives of his colleagues, however, do not feel the same about his wife Tansy. Now Professor Taylor is a psychology professor who lectures about superstition. One evening after some guests leave Tansy finds what is known as a Poppet. A small figure or doll representing a person that is used in magic.
Professor Taylor finds out that Tansy is practicing "Obeah" or "Conjure Magic". A form of magic she learned in Jamaica. This will never do. Professor Taylor makes Tansy destroy all her magical paraphernalia. After all he's an academic. He knows this stuff is silly.
Immediately things start going wrong. One of his students accuses him of rape. Her boyfriend threatens to shoot him. The school is not happy with any of this. Someone breaks into their home. Tansy feels that someone is out to get her and her husband. Someone else is using magic against them. The only thing she can do to save him is to sacrifice herself.
There is an announcer at the beginning of the movie that talks about witchcraft. He casts a spell to get rid of demons and familiars. Basically blessing the audience that is just about to watch the movie. It's just a gimmick and totally unnecessary. Plus it adds nothing to the movie. Just get yourself situated on the couch while he's talking. "Burn Witch Burn" AKA "Night of the Eagle" was made in 1962 and is based on the 1943 book "Conjure Wife" by Fritz Leiber. The title change of the movie to "Burn Witch Burn" was for the American release.
As for the movie itself. It was good. I loved it. It's more of a Thriller than a Horror movie. It got more intense and scarier as it went along. At first you think maybe it's all in Tansy's mind. But as it unfolds you think, well maybe not. Maybe there is a force trying to bring Norman down. It's quite eerie at times. Of course it's a British film and they can make anything sound creepy and by the end of the movie you firmly believe in witches.