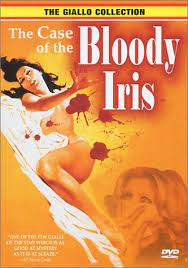 A young woman is stabbed to death in the elevator of a high rise apartment building. When the doors open on the eighth floor there are three people standing there, Mizar Harrington (Carla Brait), Mrs. Moss (Maria Tedeschi) and Professor Issacs (George Rigaud).
Andrea Antinori (George Hilton) is the architect of the building. He happens to be downtown looking for models to use in advertisements for the building. Currently modeling are Jennifer Langsbury (Edwige Fenech) and her friend Marilyn Ricci (Paola Quattrini). Andrea becomes infatuated with Jennifer. Arthur (Oreste Lionello) is a photographer. He recommends Mizar. Mizar models in her spare time. Her main job is as a stripper, of sorts, at a casino. Andrea goes to watch Mizar perform. When Jennifer leaves the photographer's studio she is approached by her ex-husband Adam (Ben Carra). Adam is the leader of a sex cult that Jennifer has been trying to get out of but Adam has been stalking her.
Later that night Mizar is attacked and drowned in her bathtub. Commissioner Enci (Giampiero Albertini) and Assistant Commissioner Renzi (Franco Agostini) are assigned to the case on top of the murder in the elevator. With an apartment free since Mizar was killed Andrea offers it to Jennifer and Marilyn as compensation for modeling in his ads. That night someone enters the apartment and tries to kill Jennifer. She screams and he flees. Marilyn thinks she was either dreaming or just imagined it.
Commissioner Enci questions Andrea about his connection in everything. His investigation revealed that Andrea had dinner with Mizar before she was killed. He also knows that Andrea was the architect of the building that Mizar lived in and that the young woman, who turned out to be a hooker, was stabbed in. Now that Andrea has started seeing Jennifer, Enci has zeroed in on him being suspect number one.
"The Case of the Bloody Iris" AKA "Perché quelle strane gocce di sangue sul corpo di Jennifer?" or "Why Those Strange Drops Of Blood On Jennifer's Body?" was released in 1972 and was directed by Giuliano Carnimeo, credited as Anthony Ascott. It is an Italian giallo film.
Gialli have a way of being either trashy or artistic, or maybe even artistically trashy depending on how you look at it. "Iris" leans more on the trashy side but there were some really nice artistic touches. It's far from being a bad film. Actually it was quite enjoyable. There were lots of suspects, a few red herrings and some strange characters. There were the usual nude scenes and some blood but nothing totally outrageous.
Like in most giallo everybody has a hang up from some previous trauma. The flashbacks showing Jennifer being a sex object in a cult is what causes her trauma but the way the scenes were photographed were actually quite creative. Andrea's phobia is blood. The actual sight of it makes him squeamish. Or at least that's how it appears. The question of if it is really a fear or if it is a precursor to a manic attack is left until the end of the film. After all he is the logical suspect. Then again other suspects are thrown at you and then thrown away. It may not be nice but it did add some additional suspense to the film.
The film is easy to dismiss as thin and pedestrian but don't sell it too short. If you look carefully you will see that Jennifer becomes the object of just about everyone's fantasy and is being stalked by more than one person. There's a lot more going on in that apartment building than your realize. Everyone has a secret, some are darker than others.
Fenech and Hilton did three movies together. The others being "All the Colors of the Dark" 1972 and "The Strange Vice of Mrs. Wardh" 1971.