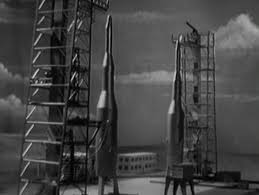 Professor Wedgwood (Peter Williams) has made plans for another trip to the Moon in Moon Rocket 4, or MR-4.  With him will be Professor Mary Meadows (Pamela Barney) and Professor Hawkins (Bernard Horsfall), who is arriving from Australia.  An accident shortly before the ship is scheduled to take off means that Wedgwood is unable to make the trip.  Nursing a broken arm, he convinces Conway Henderson (Gerald Flood) to pilot the ship for him.  
Conway's niece Margaret Henderson (Hester Cameron) is visiting her uncle.  She convinces him and Professor Wedgwood to take her along on the trip.  Wedgwood's oldest son Geoffrey (Stewart Guidotti) is also brought on board as radio operator.  Geoffrey, as a promise to his younger brother, brings Hamlet the guinea pig along as well.
When Professor Hawkins' flight from Australia arrives he is met by a man who tells him that the Moon flight has been postponed and he is to go to London for a special meeting.  The man then pretends to be Professor Hawkins and takes his place onboard the spacecraft.  No one else is aware of the switch.  The ship takes off with no problems.  Once the craft is in space, the imposter hatches the next step of his plan.
"Pathfinders to Mars" was released in 1960 and is a direct sequel to "Pathfinders in Space".   It is the second of the Pathfinders series, but the second of four children's series written by Malcolm Hulke and Eric Paice and produced by Sydney Newman.   Reprising their characters are Peter Williams, Pamela Barney, Stewart Guidotti, Hugh Evans and Gerald Flood.  Professor Wedgwood's two other children, Valerie and the annoying Jimmy have been replaced by Conway Henderson's equally annoying niece Margaret, played by Hester Cameron.