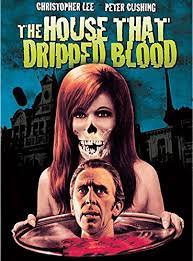 When the tenant of an old mansion disappears Scotland Yard sends Inspector Holloway (John Bennett) to investigate. Holloway talks to the local police sergeant (John Malcolm) and the realtor that rented the house, A. J. Stoker (John Bryans) for background on the missing man. Both the sergeant and Stoker believe the problem is with the house. Holloway hears about several unusual events that happened to some of the previous renters.
"Method for Murder": Charles Hillyer (Denholm Elliott) writes murder mysteries. He and his wife Alice (Joanna Dunham) rent the house for a few months so Charles can write his latest book. The main character is a serial killer he calls Dominic (Tom Adams). Charles is making great progress on his manuscript but then unusual things begin to happen. He begins seeing Dominic everywhere. Then he sees Dominic attack Alice, but Alice said it wasn't Dominic that attacked her, it was him. After seeing a psychologist, Dr. Andrews (Robert Lang) Charles now believes he is turning into Dominic. Then he sees Dominic strangle Dr. Andrews.
"Waxworks": Philip Grayson (Peter Cushing) is a retired stockbroker. He rents the house to relax and work on his hobbies. While walking in town he sees a horror waxwork museum. He walks around looking at the exhibits until he sees one of a beautiful woman. She looks very much like a woman from his past. The owner (Wolfe Morris) tells him that it is a wax figure of his dead wife who had been executed for murdering his best friend. Grayson, highly embarrassed, leaves. Grayson's old friend Neville Rogers (Joss Ackland) comes to visit. At one time they both were in love with the same woman. They take a stroll around town together. Neville sees the sign for the wax museum and wants to visit it. Grayson tries to talk him out of it but to no avail. When Grayson sees the wax figure of the owner's wife and becomes obsessed with it.
"Sweets to the Sweet": John Reid (Christopher Lee) rents the house with his young daughter Jane (Chloe Franks). Reid hires Ann Norton (Nyree Dawn Porter) to tutor Jane. Eventually Jane begins to see that Reid is keeping Jane isolated from the world. When she finally confronts him Reid tells her that his wife was a witch and that Jane is too.
"The Cloak": The latest renter of the house is a temperamental horror film actor, Paul Henderson (Jon Pertwee). His current project is as a vampire in his latest horror movie. Not happy with the vampire cloak that was provided by wardrobe he goes to a theatrical costume shop to get a better one. The proprietor, Theo von Hartmann (Geoffrey Bayldon) sells him a special cloak. When Henderson puts on the cloak he finds out that it does a lot more than make him just look like a vampire.
"The House That Dripped Blood" was released in 1971 and was directed by Peter Duffell. It is a British portmanteau style omnibus series produced by Amicus Productions. The stories were all written by Robert Bloch. This is the third of seven anthology films produced by Amicus.
The film has four basic stories and one wraparound story. One of the major critiques of the film is its lack of blood. The house that drips blood basically has no blood in any of the stories. Other than a strangulation or two most of the deaths happen off screen. As with most anthology style films some of the stories are better than others. Of course which is which is a matter of interpretation. I found most of them to be good but I also thought that "The Cloak" was a little silly. In general it is a good anthology with a few twists and turns here and there.