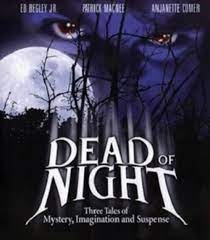 "Second Chance" Frank (Ed Begley Jr.) is a car buff. His hobby is finding old cars and restoring them. In an old barn situated off the old county road he finds a 1926 Jordan Playboy. The original owner and his girlfriend tried to beat a train but didn't make it. The car flipped and the guy and his girl were killed. Frank buys it for a hundred dollars. When he gets it restored he decides to take it for a drive out to the nearby town of Cresswell taking the old county road. As he drives he begins to see other cars on the road from the same era. By the time he gets to Cresswell it's night time, and 1926.
"No Such Thing as a Vampire" Dr. Gheria's (Patrick Macnee) wife Alexis (Anjanette Comer) is bitten by a vampire. Every night she is terrorized. The servants all leave except for the butler Karel (Elisha Cook Jr.). The town ends up in a panic. Gheria writes to his friend Michael (Horst Buchholz) asking him to come to his estate. Gheria explains the situation to Michael. He agrees to help. Things, however, are not what they seem, and there is no such thing as vampires.
"Bobby" A mother (Joan Hackett) has been grieving ever since her son Bobby (Lee Montgomery) died in a drowning accident. She has been seeing psychics and begins to dabble in the black arts. Determined to get her son back she performs a ritualistic ceremony to bring back the dead, only Bobby doesn't want to come back. Be careful what you ask for.
"Dead of Night" was released in 1977 and was directed by Dan Curtis. It is a made for TV horror anthology consisting of three separate stories.
The Story "Bobby" was remade by Dan Curtis in his anthology "Trilogy of Terror II" 1996. This time with Lysette Anthony as the mommy. The story itself is a reworking of the 1902 W. W. Jacobs story "The Monkey's Paw". It also reminds me a little of Steven King's 1983 novel and 1989 film "Pet Sematary".
All three stories are decent but the second story "No Such Thing as a Vampire" was exceptionally entertaining. It had a nice twist at the end. The story "Bobby" may have been based on a well worn classic but it was sufficiently creepy enough to be on the scary side. The first story was a cute time travel tale but nothing anywhere near the horror genre.
Director Dan Curtis has been rather prolific when it comes to terror stories. Besides directing Darren McGavin in "The Night Strangler" 1973, he also directed "House of Dark Shadows" 1970, "Night of Dark Shadows" 1971, and several made for television movies including "Scream of the Wolf" 1974, "Trilogy of Terror" 1975 and "Curse of the Black Widow" 1977. Among his resume are writing and or producing other shows such as some of the Dark Shadows television show episodes and the screenplay for the 1976 film "Burnt Offerings".