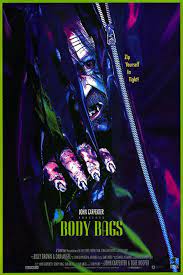 A degenerate coroner (John Carpenter) tells three tales of how people ended up at the morgue.
"The Gas Station": Ann (Alex Datcher) is just beginning her first nightshift at a new job tending an overnight gas station. She hears on the radio about a homicidal maniac who escaped from a mental hospital. The guy working the last shift is Bill (Robert Carradine). He gives her the cook's tour and leaves for the night. Between long pauses of nothing a couple people stop for gas. A creepy homeless guy (George flower) asks to use the restroom. She locks herself out of the kiosk but manages to get the extra keys from the main station through an unlocked bay door. Ann begins to get spooked by the old homeless guy being around. She sees a car in the garage bay move up and down on the automatic lift. Checking it out she finds the homeless man in the front seat with his throat cut. Ann is not alone.
"Hair": Richard Coberts (Stacey Keach) has been noticing that his hair is not as lush as it used to be. He starts to become self conscious about going bald. His girlfriend Megan (Sheena Easton) tries to reassure him but to no avail. Richard tries everything on the market to get his hair to grow but nothing works. He sees a commercial about a hair treatment by a Dr. Lock (David Warner). Richard gets the treatment. A miracle solution is applied and a bandage covers his head. The next day when he wakes up and takes the bandage off he is overjoyed at the result. Unfortunately it comes with some really bad side effects.
"Eye" Brent Matthews (Mark Hamill) is a baseball player who is having a good year. After a particularly great game he is on his way home to his wife Cathy (Twiggy). On the way he is in a car accident. A large shard of glass gets imbedded in his right eye. The eye he uses to watch the ball while he is at bat. Dr. Bregman (Roger Corman) suggests he talk to a specialist about an eye transplant. Brent is referred to Dr. Lang (John Agar). The transplant is a success and Brent can now see from that eye, but sometimes what he sees is not really there. Then Brent finds out who the donor was.
"Body Bags" was released in 1993 and was directed by John Carpenter and Tobe Hooper. It is a three story anthology portmanteau.
The first story is very much John Carpenter. It's like watching "Halloween" 1978 at a gas station. Carpenter also directed the story "Hair". This one was a little cringe worthy for those who have issues about hair growing from place it shouldn't, like out of your mouth. The third story, "Eye", was directed by Tobe Hooper. "Body Bags" is a well directed and well acted film. It is a combination black comedy, slasher and psychological thriller wrapped in a gore laden premise. The stories themselves are basic but the presentation is fun.
There are a lot of well known people in this anthology. Besides the named stars like John Carpenter, Robert Carradine, Stacy Keach, David Warner, Twiggy and Mark Hamill you have cameos by actor Tom Arnold, director Tobe Hooper, actor Peter Jason, writer/director Wes Craven, writer/director Sam Raimi, actor David Naughton, actor/singer Debbie Harry, actor John Agar, actor/singer Sheena Easton, writer/director Roger Corman, actor Charles Napier and make-up artist Greg Nicotero. It appears that a lot of people had a lot of fun doing this film.