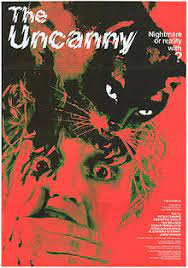 In 1977, in Montreal, Wilbur Gray (Peter Cushing) is an author of books on strange phenomena. His latest endeavor is about cats and his theory that they are supernatural and they are capable of controlling humans. On a dark and cold night he ventures out to keep an appointment with his publisher Frank Richards (Ray Milland). Richards is not sure that he wants to publish Wilbur's latest book. Wilbur believes that it is imperative that the world knows what he himself has discovered. Upon arriving at Frank's house he finds that Frank himself has a cat. Wilbur is uneasy with the cat staring at him but he knows he must convince Frank of the seriousness of his belief. To prove what he says is true Wilbur relays three stories as evidence.
The first story takes place in London in 1912. Miss Malkin (Joan Greenwood) is a wealthy woman who instructs her attorney Wallace (Roland Culver) to rewrite her will. She wants to disown her playboy nephew Michael (Simon Williams) and leave her money to her cats. Miss Malkin's maid Janet (Susan Penhaligon) is also Michael's lover. She tells Michael about the change. Michael enlists her to steal the will and destroy it. Janet gets caught by Miss Malkin taking the will out of the wall safe. In a panic she kills Miss Malkin. In front of the cats. The cats, aware of what's going on, seek revenge on Janet.
The second story takes place in 1975 in Quebec. Lucy (Katrina Holden Bronson), and her pet cat Wellington, are taken to live with her snotty aunt (Alexandra Stewart) and uncle (Donald Pilon) after the death of her parents in a plane crash. The Blakes also have a daughter of their own, Angela (Chloe Franks). Angela is a brat that bullies Lucy. Angela is jealous that Lucy has the cat. Angela manipulates her mother into getting rid of the cat. Wellington manages to make it back to Lucy. Lucy knows that to protect her cat, Angela has to go.
Wilbur's third story takes place in 1936 Hollywood. Valentine De'ath (Donald Pleasence) is a horror movie actor and so is his wife. During a "Pit and the Pendulum" scene Valentine replaces the fake pendulum blade for a real one. His wife is killed. Ready in the wings to take her place in the film is a young ingénue and Valentine's mistress Edina (Samantha Eggar). Edina not only takes the wife's place in the film but Valentine's house as well. Valentine's wife has a cat. Valentine hates the cat. After killing the cat's mistress he drowns the cat's kittens. Unable to catch the cat it takes its revenge on both Valentine and Edina.
"The Uncanny" was released in 1977 and was directed by Denis Heroux. It is a British and Canadian venture. The movie is an anthology in the portmanteau style. It is reminiscent of several Amicus anthology films and similar to the Hammer film style. The film was shot on location in Montreal and Senneville Quebec as well as in the Pinewood Studios in England. One of the extra highlights to the film is the opening credits. It is a montage of cat paintings that blend in with each other.
During one scene Peter Cushing shows Ray Milland a picture of the character Valentine De'ath, played by Donald Pleasance. The photo used is one of Pleasance as his Blofeld character in the James Bond film "You Only Live Twice". In it Blofeld is holding his trademark white angora cat. The girl who plays Lucy in the second story is Katrina Holden Bronson. She is the adopted daughter of Jill Ireland and Charles Bronson.
Although not the first choice to play Wilbur Gray Cushing does an excellent job playing the twitchy paranoid writer. The film boasts some great actors and some good cinematography in most of the stories. The strongest and scariest of the three is the first one, with enough blood and guttural felines to spook even the most ardent cat lovers. It's the reason I sleep with my bedroom door closed and my cats on the other side. That story may be why the film got an X rating in Britain.
The film may not have done well at the box office but it's still cool to watch. As fantasy, however, I have to disagree with the film being fiction. Everyone who resides with cats knows that they really are supernatural creatures and they do control everything. We are only here to serve.